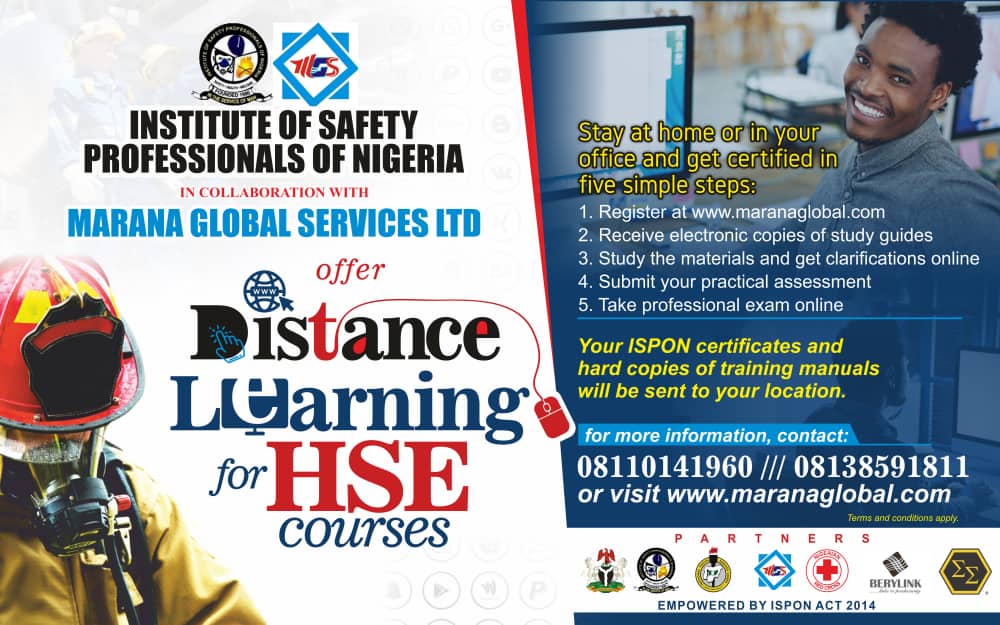 Welcome to the Distance Learning with Virtual Classroom (DL-VC), an innovative learning option designed to encourage certification of professionals.
Distance Learning at Marana Global offers opportunities to those who are in remote areas and those who may find it challenging to secure days off for training because of busy work schedules. Also, international participants seeking to obtain certificates or professional memberships from Institute of Safety Professionals of Nigeria should consider this as a great option.
Why Choose Distance Learning?
You may wan to consider this option for the following reasons.
1. If you cannot access approved training center near you.
2. If you have already used your annual leave, and securing days off may be difficult.
3. If you have obtained other safety certifications to provide equivalent skill level with the chosen course.
4. If you are a professional member of other recognized safety bodies and you are applying for ISPON membership.
DL-VC Methodology
The idea of DL-VC is to combine both online and offline resources for the training of participants. While the virtual classroom is being developed, the method of training is described below:
After participants complete registration process, including payment of required fees, access will be granted to the course guides for study. The resources include training materials and videos, case studies etc that the participant can use offline for study at their convenience. Practical assessment questions will be given, to be done and submitted via dedicated email address.
In the course of the training, questions from participants will be answered through their emails, WhatsApp discussions and Facebook.
The Virtual Classroom offers participants opportunities to have real time interaction with online Instructors to answer questions and provide clarifications.
On completing the training and assessment, certificates will be sent to your location via courier services. No additional fee applies for Nigerian participants.
Continuous assessment will be done through assignments. Upon completing the course, the final certificate examination will be done online using our website. The participant will have access to the exam portal on the day and time of the exam.
Certification
After successful assessment, certificate will be processed. Hard copy certificate will be sent to participant via standard courier service anywhere in Nigeria. Printed copies of training manuals may also be included where applicable. For participants outside Nigeria, extra shipping costs will apply in line with standard shipping rates of the chosen logistics company.
Courses Available on Distance Learning
Courses that are fully practical based, such as Advanced First Aid and Advanced Fire Fighting are not allowed on DL-VC with Marana Global.
See remarks on this Table for courses available on Distance Learning. To confirm whether your preferred course can be done online or for more information, please contact us.
Undergraduates and non-degree holders are not eligible for Distance Learning with us.