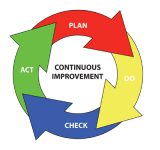 HSE Management System (HSE-MS)
December 18, 2019

OSH Hazard Identification and Documentation
April 21, 2020
Laboratory Safety Mgt
Description
Activities in laboratories can present many risks with potential for serious health effects. These risks can be due to various hazards which include biological agents, chemicals, physical, mechanical, ergonomic and psychosocial hazards. Working safe in laboratories requires that workers comply with laboratory best practices, observe necessary safety requirements and adhere to all standard procedures.
Participants will learn how to management risks in laboratories using the hazard and effect management process to prevent health injuries, develop emergency management plan and investigate incidents.
This course is suitable for supervisors, managers, technicians, scientists and others who work in a laboratory or have responsibilities to manage risks relating laboratory operations.
Reviews (0)
Only logged in customers who have purchased this product may leave a review.